⭐⭐⭐⭐⭐
"Saved us so much time"
⭐⭐⭐⭐⭐
"Best product on the market"
⭐⭐⭐⭐⭐
"Our customers love it"
Software to Manage
Appointments, Reminders

&

Payments
24/7

Beautiful Digital Experiences
Custom Branded booking pages
Immerse clients in a booking experience that aligns with your brand guidelines and imagery. From logo to colours, we craft a seamless, professional look.
Embrace custom branded booking pages and transform your booking process into a beautiful digital experience for your clients.
SMS Reminders
Our SMS reminders are strategically timed.
Calendafy immediately sends

one confirmation SMS once appointment submission

has taken place.
Another friendly SMS nudge
3 hours before the scheduled meeting with all

the appointment details included.
This not only reduces no-shows, or lateness. It also helps clients plan their own day accordingly.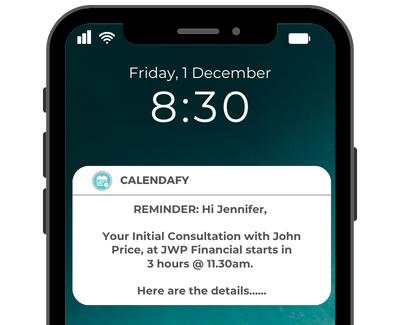 Integrated to the tools you use
Share your availability &
make scheduling easier
Whether you're on a plane, train or ferry you can quickly share specific appointment links with your clients or prospective clients, so they can book at a time that's convenient for you and them.
Add to your:
Website, social media, newsletters
Email signature, email templates, email campaigns
Any other digital location of your choice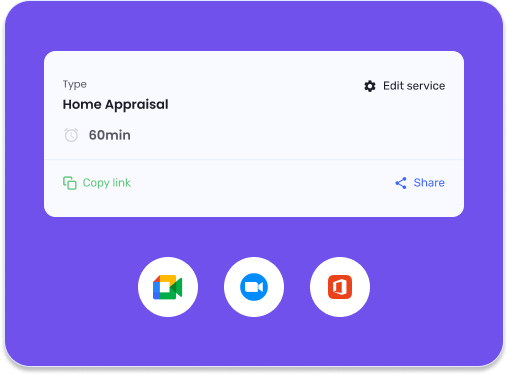 Increase
revenue
, save
time
and
mitigate the risk
of losing clients when scheduling appointments
Don't take our word for it. Calendafy users see an average increase of 31% conversion rate, by adding our appointment scheduler to their website.
Ready to take your business to a new level?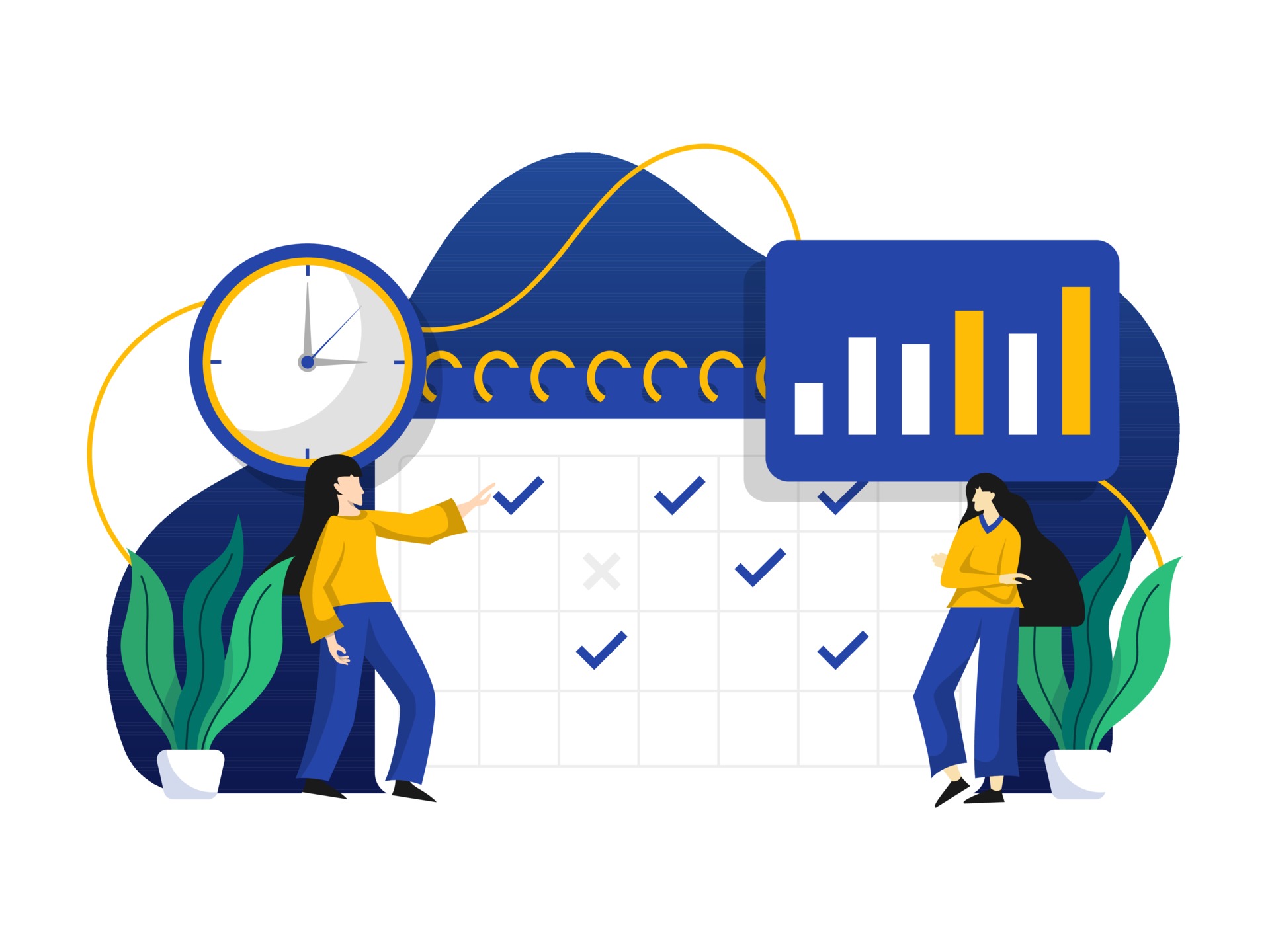 Worried about learning a new software platform...

Don't!
Once you sign up (even for a free trial), we'll meet with you over Zoom, understand what you want to achieve, ask some other expert scheduling questions, set everything up for you and you're ready to go. No learning how to use Calendafy, or how to set it up. We do it all for you, for free!
Don't believe a software company would do this? Give it a try and help us fulfil our vision with you today!

Create unlimited appointment types
Have appointments that are 15 mins or 1 hour, on Zoom/Teams or face-face? Create unlimited appointment types and lengths, and make it easier for clients.
Improve your customer experience
Have an on-brand booking page your clients can visit to book appointments with you. Add to your website, email signature or any other digital location.

Capture questions and payments from clients
Add unique qualification questions, for each appointment type. Take payments for appointments that can be paid in advance.

Save time following up with clients
Automated email & SMS reminders, reduce no-shows, allow clients to reschedule or cancel and let you focus on what you do best.
Don't take our word for it.
Here's what our customers say
"Calendafy are just incredible. They've transformed the way our clients book appointments in a way we could never have imagined. Their support is a country mile ahead of any other software supplier we use. and the product is awesome. Thanks team!"
"Investing in marketing campaigns to generate visitors on our website, we knew we needed a scalable way of clients booking "Initial Meetings" 24/7. We met a Calendafy rep at an event who promised the world, and they've never let us down once. An asset to our business and have created new features based on our requests.
"Our website converts more traffic, and our sales team has increased new business appointments using Calendafy. We recommend it to nearly all of our clients because we know they'll get similar results. Great support and on-boarding team, and the platform is intuitive. "
We've answered some of the most common questions we hear.
FAQs
Will I get an account manager even if I have the Basic Plan?
Yes! We are not your typical software company, where you only speak with bots or help pages. We treat every customer like our own team members. Your dedicated account manager will introduce themselves when you sign up for a free trial to help understand what you're looking to achieve and then set it all up for you. We proactively support you, so that you can focus on what you do best and let us worry about scheduling your appointments. No catch!
Can I cancel my subscription at any time?
Absolutely! Calendafy has built our reputation by putting our clients at the heart of every decision we make and we treat you the same whether you're joining or leaving. We know things change and you may no longer need Calendafy. You choose the period you want to pay for (monthly or annually), it's as simple as that. No lock-in contracts, no hidden fees. We know the feeling of being on hold for 30 minutes just to cancel a phone plan and will never put you through that! Check our reviews out and you'll see how much our customers love us and we love them - past and present.
How long does it take to get Calendafy up and running?
You can setup Calendafy in just a few minutes and be ready to start taking online meetings, in-person appointments or phone calls immediately. However, if you need support in setting up your account, your account manager will have already introduced themselves and can help you with your setup if necessary. We'd recommend meeting with you Account Manager, as they will take all the work off your hands for you, but if you'd like to do it yourself, we will leave you to it and be on hand if needed.
If I integrate my calendar, does Calendafy have access to my email account?
Absolutely not! Our calendar integration only checks the duration and available or unavailable status of the events in your calendar so that we don't get ever get double booked. We never store who you are meeting with, their email address, the meeting title, or any other details about the appointments in your connected calendar. We treat our users privacy and security with the utmost importance.
Can I accept payments from my customers when they book an appointment?
Yes. Our partnership with Stripe gives you the option to accept deposits or payments in full, before an appointment can be booked. You create your own Stripe account, create your products/services and their price, setup your nominated bank account to receive the payments, and you're ready to go.
How does the free trial work?
It's very simple. We want you to have the full Calendafy experience. So, for the full 14 day free trial, you and your team have full access and functionality to the Calendafy platform and Account Management team. If it doesn't suit your needs, we close your account once the trial finishes.
Are there any limits to how many appointments I can have?
No. The more appointments you receive, the happier we are because we love nothing more than seeing our customers being successful.
How does round-robin work for multiple staff members and appointment types?
In Calendafy, you can create rules based on how you work. If you want a fair distribution of appointments, you can create a round robin. This means that Calendafy creates a queue (of your Team Members) and when a customer books an appointment, Calendafy will search the availability of whoever was last in the queue. This gives a fair distribution of appointments across your team. If specific team members are specialists on certain services/appointments you have, you can tag that team member to that specific appointment type. This way only they will be booked for that type of service/appointment.
We may add more team members in the future. Which plan should I choose?
You can add and invite more users from within your account at any time. If you reach your limit of users for your specific plan, no problem because you can upgrade from within your account whenever you need to.
Is Calendafy GDPR compliant?
Calendafy is proud to be an Australian company. However, since we have users globally and from the European Union, we have built Calendafy to ensure that all users receive the protection established under GDPR, as we are bound to do. Please visit our Privacy Policy for further information.
Can my customers reschedule or cancel after submitting their booking?
Absolutely! Inside the calendar invite they receive, after booking an appointment, there is a reschedule and cancellation link embedded to reduce the chance no-shows. We also send a reminder email 24 hours before their appointment and an SMS (SMS Optional) 3 hours before the appointment.
WORLD CLASS SUPPORT
Dedicated On-Shore Account Manager
Every Calendafy client, has their very own Account Manager, based in your country, who specialises in a specific industry set. They even do all the work for you, to get you up and running.
This gives you immediate support, from experts in your industry. Allowing you to leverage their knowledge to gain greater value from Calendafy.
Are you ready to take your business to a new level?
We hope the answer to that question, is an astounding yes! However, like any smart business person, you're going to want to see what the price is and decide whether or not you'll get a return on your investment.
Use the button below to visit our pricing page, where we explain our transparent pricing packages for different team sizes and the features that are included.
PRICING